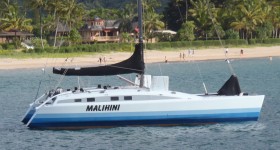 Malihini is a catamaran we almost bought in partnership. That deal didn't work out, but I'll leave the page up for any curious sailors that might stop by.
DESIGN
John Shuttleworth designed catamaran with round bilges, plumb bows and dagger board in each hull. Flush decks and open cockpit aft; companionway with hatches steps down to cabin areas in each hull.
Video of Shuttle 31 Atlantic Crossing
Students at a high school in Switzerland built two Shuttle 31s. 4 feet shorter than Malihini. Two other groups of students from the same school sailed them across the Atlantic and back. The video they made is in German with English subtitles. Well worth the watch.
CONSTRUCTION
Constructed by Doug and Sharon Gibson of Kauai. They primarily sailed Malihini in Hawaiian waters, out of Nawiliwili Harbor, but they also sailed her to Los Angeles and back.
She is all foam core/epoxy/vacuum bagged construction.
Hulls are a composite of 20 oz. uni-E-glass, 5/8 thick, 8 lb. Divinicell foam; 24 oz. uni-B-glass, all epoxy resin and vacuum bagged.
Bulkheads are 1/2″ Divinicell foam with 15 oz. uni-"E" glass and epoxy resin; 4″ tabbings
Decking is E-glass/epoxy; foam core; vacuum bagged; Awlgrip LP paint and non-skid
Composite chain-plates, carbon rudders/post, dagger-boards, main beams
Each hull has (6) watertight compartments in the bilges. The rudders, rudder posts, dagger boards, tillers are all foam with carbon cloth and epoxy resin.
Rudder is FG/foam epoxy twin-balanced spade kick-up and steering in tiller across cockpit connected with tiller bar
Finished in Awlgrip
DECK EQUIPMENT AND RIG
ANCHORS: #55 Rocna, #35 Bruce, #25 Bruce
RODE: 250' x 3/4" nylon
CHAIN: 200' x 5/16"
Anchor windlass mounted on deck to port of mast & directly above chain locker.
HARDWARE FITTINGS:
(2) 12" SS bow cleats; (3) 10" SS stern cleats; (2) 8" SS midship deck cleats; deck hatches
MAST: 45' alum. w/ double spreaders; cutter rigged w/ stay sail; running back stays
STANDING RIGGING:
All 1 x 19 SS; head stay and cap shrouds are 3/8" Dyform
RUNNING RIGGING: Double braid
SAILING WINCHES: (3) Lewmar 40 AST; (3) Lewmar 16 AST; (3) Lewmar 8A
SAILING ACCESSORIES:
(8) Lewmar 7/16" line clutches; (4) winch handles; boom vang/preventer; running backstays.
DECK, COCKPIT, BRIDGE EQUIPMENT & GEAR
Dock lines; fenders; aluminum boat hook; cockpit cushions.
CANVAS
Main sail boom cover, 2 sun awnings
SAILS
340sq. ft. full-batten main; 400 sq. ft. Genoa; 390 sq. ft. Genny; 400 sq. ft. drifter; 280 sq. ft. lapper; 190 ft. sq. ft. Yankee; 135 sq. ft. stay sail; 40 sq. ft. storm stay sail; 1200 sq. ft. spinnaker
ENGINE
Yamaha 9.9 high thrust outboard – new in 2008
This engine is mounted on a HD sled faring which is retractable.
20 gallon fuel capacity in four tanks located under aft cockpit seat
NAVIGATION EQUIPMENT/ELECTRONICS
AIS
ICOM MXA-5000 and Vesper Marine Watchmate
RADIO: Panasonic VHF radiotelephone – 25 watt, full channel
GPS: Garmin GPS 152
WIND/LOG/DEPTH INSTRUMENTS: Silva Nexus system
AUTOMATIC PILOT/STEERING: Autohelm ST-4000, tiller mount
COMPASS: (2) liquid, lighted 6″ Ritchie BN-202
NAVIGATION LIGHTS: U.S.C.G. approved
SEARCH LIGHT: 12V 4000 candlepower hand held
ELECTRICAL SYSTEM
TYPE OF WIRING: Plastic-coated copper strand wire, tinned loomed and secured
VOLTAGE: 12V DC; 120V AC; shore power
CONDITION: Marine standards
MASTER SWITCH: Vapor proof 3-pole
FUSE PANEL:
BREAKER PANEL: AC/DC
BATTERIES: (2) Trojan T105's 1 Trojan (brand new), acid-proof boxes, secured
BATTERY CHARGER: "Freedom" inverter/charger; "Heart" Freedom 1000 watt
SOLAR PANELS: 4 Solar Panels – 2 mounted on each hull
SHORE POWER CORD: 30 amp marine type
WATER TANKS AND PUMPS/VALVES
Three tanks integral part of structure, located just aft of mast
Two 25-gal. tanks plumbed to galley in starboard hull; one 30-gal. tank is plumbed to the head in the port hull.
Manual foot pump in galley for fresh water
Manual hand pump in port hull vanity
BILGE PUMPS: (1) fixed 10-gpm pump in each hull; (1) portable 20-gpm pump in cockpit
THRU-HULL SHUTOFF VALVES: (1) GRP seacock salt water inlet in head area in each hull; (1) GRP seacock saltwater inlet in galley area. (3 Total)
ADDITIONAL EQUIPMENT
PORTABLE FIRE EXTINGUISHER: (4) portable fire extinguishers
LIFE CUSHIONS: (3) type IV
THROW RINGS: 20" ring, Lifesling
DISTRESS SIGNAL: Olin kit
MISC: Tools, many spare parts