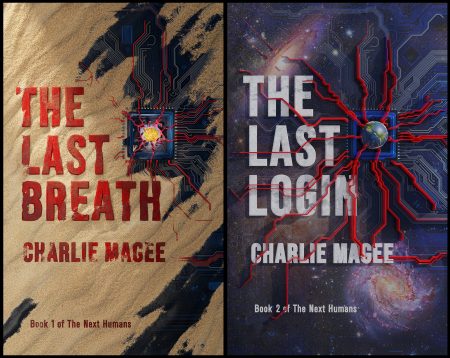 The Last Breath and The Last Login,
novels by Charlie Magee.
Non-stop action threaded by a powerful love story? Oh yeah.
C'mon everybody. Buy them. Read them. Tell your friends. Alert your FB, Twitter, and IG crews.
– – – – – – – – – – – – – – – – – – – – – –
Apocalypse One is in the past, taking four billion lives. Nature is rebounding and so are we. In twelve hours, nanochips will be released that augment the brain and body. 250 million people are pushing and shoving to be the first to breathe "brain dust" so they can become superhuman. Sure, every version of the software contains modules salvaged from AIs that committed suicide, but what the hell, you don't want to be last, do you? Your friends will go infinite and you'll still be a flatworm.
By the way, the tyrants' version contains a back door to your brain, turning you into a mind-puppet. Lia Bellamy's Slipstream, if you can get it, will unleash your deepest potential and make you forever free. But first she has to fix the last few bugs while evading the mercenaries hired to kill her. Will tomorrow explode us into Apocalypse Two or catapult us into the Age of Imagination?
– – – – – – – – – – – – – – – – – – – – – –
The books are currently only available on Amazon, not a company I'm real thrilled with. But they're the five-gazillion-pound gorilla of book sales and I'm there while I figure out other avenues.
Available as Ebooks and Paperbacks.
---
---
Latest Posts