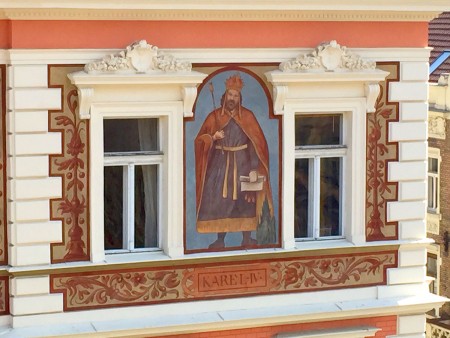 Okay, I've never been to Rome, Florence, or Paris, so I could be wrong but Prague wins the award for World's Best City of Art. It's everywhere . . . paintings on houses, apartment buildings, and business signs. Sculptures in every direction, from classical to modern to what-the-hell-is-that! If there is a city where art is integrated into the surroundings, as basic and necessary as eating and breathing, more than it is in Prague, please let all of us know in the comments.
(I've been throughout the United States, so don't even try to tell me there is a city in America that can match up. We are to Prague when it comes to art, as we are to the Italians for eating, drinking, living, breathing.)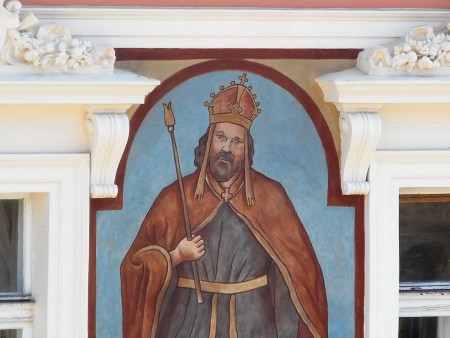 Our flat is on the sixth floor of a building one block from the west bank of the Vltava River, and two blocks from the bridge that crosses to the Dancing House. There are paintings of Kings from the medieval era of Prague on the wall of the building across the street. The paintings are visible from the street, but the best view of them is from our apartment.
(I gotta think the painter of this has a great sense of humor. The king's head is cocked slightly and he's got a bit of a perplexed expression on his face.)
There are at least a dozen sculptures built into the walls of the buildings on our block. There are five or six sculptures in the small park one block away. Many of the business signs are hand-painted. There is decorative ironwork on gates, above windows, and over alley entrances. Many doors are carved wood or beaten metal.
Sure, many of the signs are the pre-made, backlit signs provided by beer companies for free to pubs and restaurants, but I'd say that almost half of the signs are hand-painted or custom-shaped/molded/formed.
That's all within one block. And we're not in one of the "cool" neighborhoods. It's a basic, downtown neighborhood of 5- to 7-story apartment buildings. Each block averages four or five restaurants or bars or cafes, several shops and a mini-mart or two.