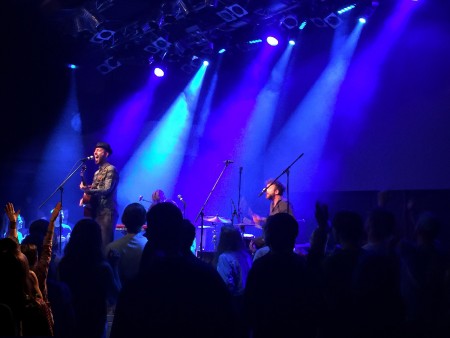 We spent a couple of hours checking out events calendars online and found a few clubs that seemed to be in our vein. We went back and forth from their schedules to YouTube and we watched videos on each band. We decided the next show to see was a UK singer/songwriter named Charlie Winston. He was traveling with a drummer, a keyboardist, and his opening act was his singer/songwriter sister Vashti. Here's the video that got him some international notice.
He was playing at the club we accidentally went to on our first night here: Lucerna Music Bar.
It's a strange room in the basement of a large building. The stage is on the center of one of the long sides of the room. It comes to about halfway across the room, leaving the two sides of the stage as the biggest spaces for audience. The space is constrained by massive pillars that hold up the building, but I don't understand why they put the stage in the middle of one long wall instead at the narrow end of the rectangle.
There are several bars, downstairs near the dance floor, and upstairs near the balconies, selling very cheap drinks. One beer and one wine is under $5. Shots (going from a hazy memory here) are $3. Locals seemed to be 50/50 between beer or what looks like large whiskey cokes that they sip from straws. I saw a mom and her two twenty-something daughters go for 3 shots with their coca-colas.
We got there a bit early and the crowd began to build . . . along with the waves of blue cigarette smoke. I hadn't realized how spoiled we've gotten in the U.S. with the no-smoking rules. I spent a few minutes sneezing, and my eyes were still puffy and red the next day. A European price to pay for going out to the clubs. It sure looks cool floating around in the spotlights.
Vashti did a sweet, sad set with her beautiful voice. She apologized for being a little shaky because she hadn't been on stage for six months because she'd been spending all her time with her two little kids. Of course, then she wasn't shaky at all. She intro'd the first song in a weird way: "This is for those of you that are married but need an affair. Oh, and I do love my man, don't get me wrong."
After a few songs, then a bit of a wait, Charlie showed up and got his set going as a solo. Things picked up speed and volume when the drummer and keyboardist showed up.
This was our second show in Prague and it seems as if the audiences are a bit shy about dancing. Things start off with most of them simply standing there . . . only a few are bobbing and bouncing. Then it builds and a few (usually just women) start dancing. Geni and I were pretty early in the dancing side of things and that seemed to loosen up a few couples around us. Things finally got rocking in the audience for the last hour of the show.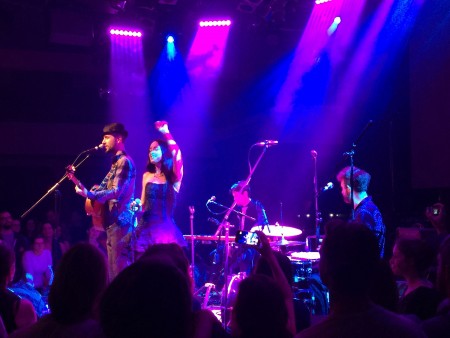 The music and singing was great. There were two highlights to my mind. The first was when Charlie got the audience going on a three part chant thing, then he put down his guitar, left the mic and shared the drums with the drummer, and then shared the keyboard with the keyboard player. That took things up a notch for sure.
The second highlight was when Vashti came back out to sing a Prince tribute along with her brother. They knocked out a moving version of When Doves Cry.
All in all, a great show in a beautiful city. Afterwards, while strolling away from the club, a young couple passed us and thanked us for coming out and dancing at the club and they were glad to see that we were enjoying our visit to Prague. We hadn't spoken to them during the night, but I guess we got noticed.