During the first "where would you go if you could go anywhere" conversation we had, Geni mentioned Crete. She hoped to go there some day. Over the years, Crete was always on her list, though raising kids and running small businesses always took priority. So when planning for this trip began, Crete was an absolute, and that was just fine with me.
We arrived on Crete with only one night booked. When we began browsing Airbnb for our first "real" night on Crete, away from the big city, I began hovering around Chania. All my youtube surfing and google searching had led me there. I showed Geni some nice places, but then she moved the map to an area of beaches to the west of Chania. She was tired of all the medieval urban. She wanted elbow room.
You need a bit of context on Geni now. She grew up in Agate Beach, a neighborhood of Newport, Oregon. Every night of her life, rain or cold or wind or stars, she went to bed with the window open so she could listen to the ocean crash against the rocks near the lighthouse. After hitching up with me, she has spent almost 30 years living an hour and a half away from the sound of those waves. During all these years she would drag me, or drag me and the kids, or go by herself every chance she got, back to the family home, to her old bedroom to sleep with the window open.
"Oh, I'm not sure about Chania. I think we should stay on the beach and not go anywhere for a few days."
I was puzzled. Not befuddled or shocked, yet. "Hmmm, we're only on Crete for four or five days. You want to spend two of them on the beach?"
"Yes, maybe three days."
She was serious. Shock began to arrive. An assumption was crashing down around my head. For 32 years I thought she wanted to go to Crete to see where civilization began. To visit the Palace of Knossos. To walk in ancient monasteries. The truth was dawning on me.
"But Chania. The Palace. The other Palace."
"We might have to skip Chania."
"Wait a second. All these years, you wanted to come to Crete for . . . for . . . for the . . . the beach?!"
"Yes," she said, looking at me with surprise. "Of course. The beach. The waves. The water."
"But you could go to Cabo for that! Or Miami. They're a lot closer to home and cheaper."
"Yuck. That would be silly. They aren't Crete water and waves. They aren't the wind of Crete. That would be crazy."
Luckily, Geni isn't crazy. The beach was a must-do, and several visits necessary, but not all-day events. She knew that the sun would be too much for both of us. But we did sleep for several nights with the ocean waves just a few feet away.
She found an Airbnb rental in a small inn near the town of Kissamos, Crete. I shrugged. Sure, why not. It's only about 1/2 hour drive from Chania.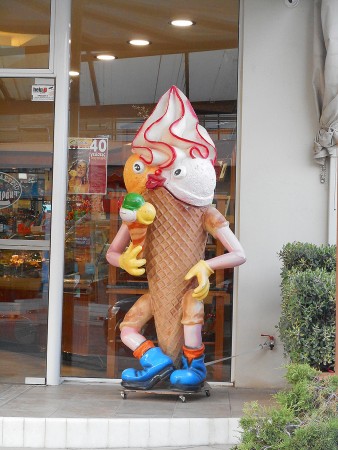 ---