After our exciting drive along the top of the mountain which is Cres Island, Croatia, we dropped down to sea level and crossed a narrow swivel bridge onto Losinj Island. At some point in the distant past, the two islands were one. But a narrow channel was cut that saved many hours of sailing time in the area.
The road climbed up the mountain that is Losinj. It's very similar to Cres, but perhaps with more trees in places. You don't see a panoramic view of Mali on your way in, but you do see enough bits and pieces through the trees and dips in the hills to raise your anticipation.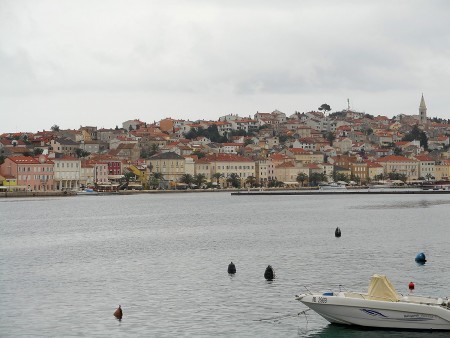 Mali is the biggest town in the Croatian islands, with a live-in population of about 8,000. That makes it somewhere in between Waldport and Newport of Oregon. But size is the only comparison that can be made. It's not fair to go further. Mali is a small fishing village that is hundreds of years old. It was formed in a time when villages were kept small and tight, both for protection, and to maintain nearby growing fields.
Before arriving here, we'd seen old Zagreb, Motovun, Rovinj and hundreds of tiny villages and breathtaking landscapes. Surely it could not continue. Croatia must have used up all of it's beauty points in Istria.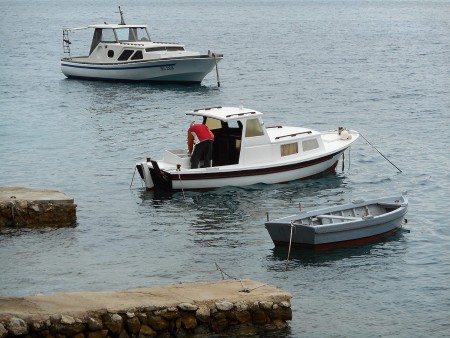 When we first walked out on to the harbor promenade and turned in a circle, on a gray day and in a steady mist, I said: "How do they do it? How do they make something so long ago, that persists with this incredible charm and beauty throughout the centuries? It's not possible. Is America really that young, with such little sense of beauty balanced with a basic understanding of utility? It makes us never want to leave. Or it makes us want to become billionaires so we buy up small U.S. towns and transform them and then return them to the locals as gifts. (Well, that might be pushing it a bit, but I'm running out of ways to express the mixed emotions of being from somewhere that never took the time to build like this.)
The homes, shops and restaurants ring the harbor and climb the hills around it. Then town stops at the ridge, mostly. The big buildings are on the other side of the ridge: Konzum Super (Safeway), the roofing tile manufacturer, the recycling depot, the "department" store and so on. Also, several big hotels with their own bays, beaches, and swimming areas. Mali surrounds a tiny harbor, but the peninsula that forms the west side of Mali swings around and down to the south in a series of tiny bays.
Previous to our arrival in Mali, Geni and I had been aimlessly commenting on how nice it would be to have our sailboat in Croatia for a long sailing season. Mali made us sit up and talk about how to make that possible. The answer: win the lottery. Oh well.
We'd read that the Dalmation archipelagos are some of the world's best cruising waters. The words were not hyperbole. Sorry if I sound like a snooty yachty, which I'm not, but man-oh-man did we want a sailboat when we walked around this village and over the hill to the promenades along the resorts and other homes. Tiny little bays with many anchorages, crystal clear water (no exaggeration), good breezes, wonderful views around every corner, and, here at least, taverns and restaurants and shops a dinghy ride away.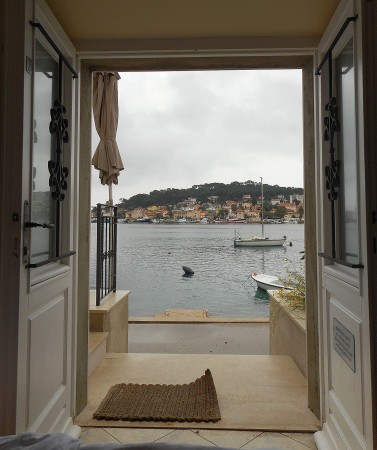 But, no sailboat. That's okay. We had a place directly on the water, with only a wide sidewalk between us and the stone docks. The attached photo uses no Photoshop trickery. The location of this Mali Airbnb rental was thirty seconds from the beginning of the shops and restaurant promenade that wraps around the harbor. It had pluses and minuses. Location was great, but it was a bit awkward because the front doors opened on to our queen sized bed. Every passerby on the sidewalk turned their head at the open door. They weren't snoopy, it's human nature to look into open doorways when you're strolling.
Luckily for them we avoided extra-curricular activity with the doors open. We sat on the front terrace several times and said hello to the people that looked at us. But most people avoided eye contact. We heard a lot of Croatian, German, Danish, British and, maybe Finnish. The German and Austrian women tended to walk five to ten feet behind the men. The men strode with purpose and with absolute refusal to glance at someone who would be so silly to sit on a terrace so close to a sidewalk. But the women shyly glanced sideways and were thrilled if we nodded, smiled, or said hello.
At our first restaurant here, the waiter said "Guten Abend." Even after several back and forths about dinner and wine, with English and bits of mangled Croatian from us, he persisted in speaking German to us. We'd heard that Mali was a popular place for Germans and Austrians to vacation, that was our first confirmation. There were to be many more.
---