I know you're tired of the superlatives by now. Charlie's jaw dropped again. Big deal. He must be exaggerating. Sheesh, man, get over it.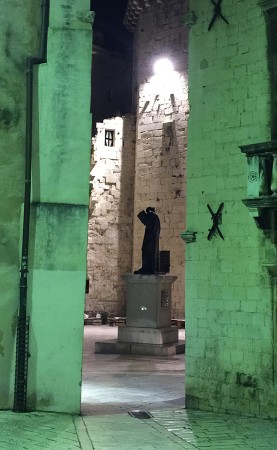 Split, Croatia almost never made the list. One of our early winnowing techniques during research was to look at the first few dozen photos of a location that came up in a Google Images search. Split had a bunch of aerial photos of the city. Lots of ugly skyscrapers, though pretty in a sunset. Not what we were looking for. There are plenty of cities with skyscrapers in the US.
I mentioned that to my mom and she got all excited: "No, no. You have to go to Split. To the Emperor's palace. You won't even see the skyscrapers."
Roman Emperor Diocletian made Split the location of his retirement home. He was one of the last Emperors before the Empire began its Fall. From Wikipedia: "In 293 CE, he began the construction of an opulent and heavily fortified palace near his home town of Salona, selecting the site of Spálathos (or Spalatum in Latin, now Split). The palace was built directly fronting the sea, so as to allow its occupant to escape by that means if necessary (in an era plagued by civil wars)."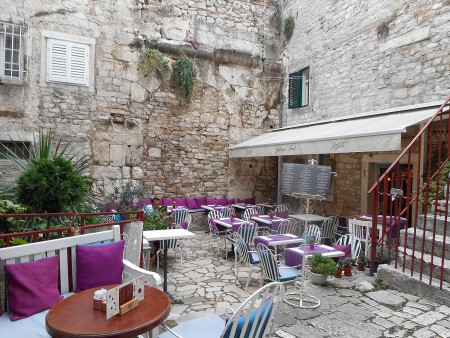 My Mom sent us a long article written by an archaeologist who had dedicated his career to studying the palace. Split went from not-a-chance to hmmm-maybe. Then we had an Facebook chat with my friend Brian–with Geni and Kate chiming in from the background. Brian and Kate said Split was a must-visit. They were even thinking of moving there! And that's after living in Eugene, Vancouver BC, and currently in Cuenca, Ecuador.
Okay, two very trusted, reliable expert travelers. (Mom has been around the world several times and we have similar ideas of what is nice to see and do.) So we put Split on the agenda for two nights and two days between Plitvice and Dubrovnik.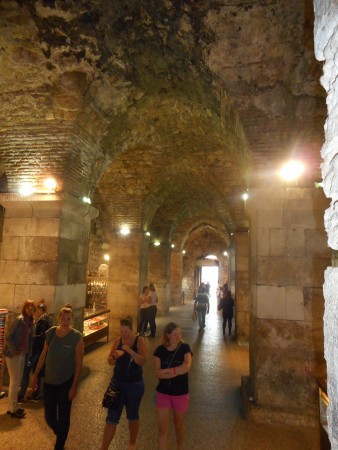 Somehow, I managed to drive straight through the city to the corner of the palace wall within two blocks of our Airbnb suite. Our host found us, showed Geni the place and gave us some parking tips. Almost 2 hours later we found our way back to the 3 story, 12 foot x 12 foot apartment. (That includes the stairwell.)
I should write an entire post on that find-a-place-to-park-after-a-full-day-of-driving-and-you're-tired-and-cranky journey. Madness and nightmare, yet we had to laugh or we would have cried. We went down one street, a lane really, with a two foot deep gutter on the left, barely room for a vehicle in the middle, and cars pointing up and down on the right. Very steep. Ugly apartments and beautiful homes mixed together. Did I say steep?
"This might be a dead end," said Geni. "No way," says I. "Half of these cars would have to back up the street to get out. And what if somebody came down while they were trying?"
Dead end. I had to back up, find a rare driveway for a Y turn, and drive out. Crazy. Now do that 2 more times, accidentally go the wrong way on a one-way with a bus coming at you, go past the same parking garage 3 times without seeing the entrance, ask 3 people for help that are no help, find the garage, schlep backpack and grocery bags 15 minutes downhill to the palace wall. I was ready to spit and throw things against the wall.
We took showers and went to wander the old town of Split.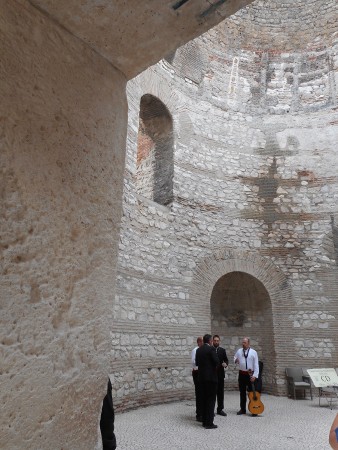 It helps to be an Emperor when you're building a city. Diocletian hired architects. Rovinj is the product of vernacular architects: the people designed their homes as they built them. Diocletian's Palace was designed by architects hired by the Emperor and his friends. There is no other way to explain the difference in the spaces and the structures and the feeling.
— The courtyards where multiple lanes met were generous and sized for human interaction . . . each seemed to have two or three restaurants and several shops with awninged tables along the edges and just enough room for strollers to pass . . . and each such courtyard was no more than a block away from a similar-sized, yet different, courtyard.
— Each space—courtyards, lanes, streets—seemed to have its own character, distinct from the others but similar in materials and focus on human-sized.
— Then you turn a corner and stop dead in your tracks. You would be in a courtyard, that led, between a narrow place between buildings, to another courtyard, and in the center of that other courtyard was a beautiful sculpture. It had been there for centuries and it had been placed there for no other reason than to provide surprise that it was there, and for its own beauty. And a surprising glimpse of that sculpture could be seen from three or four or five other lanes that turned to that place from their own direction.
— Inside the Palace walls it was immaculate. Rovinj was clean and tidy, but the walls and shutters and doors show the age of the centuries. Split was being taken care of on a more regular basis and with more detail.
— The best for last: Geni and I heard a woman singing. Her voice echoed around several corners. Then we heard the acoustic guitar. We turned a corner in a lane and found ourselves in an outdoor room designed by a master architect.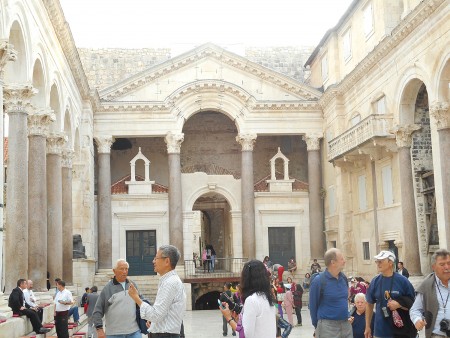 Formed by the walls of Saint Domnius Cathedral and several other buildings, with steps going down into a central square, the space was big enough for several hundred people, yet felt intimate with the forty people from all over the world that listened to the beautiful singer and her guitarist. We listened for quite a while, and watched the couples from many countries dance in the courtyard, while others sat on cushions and waiters brought food and drinks, and teenagers watched and listened, and we sat and absorbed a different way of life.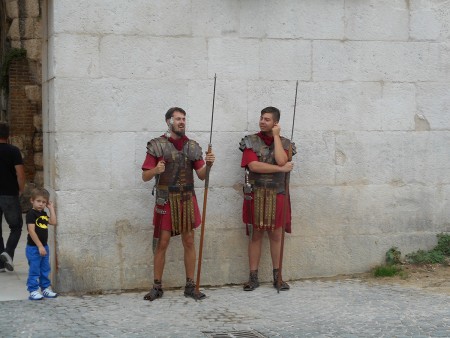 There is so much to share . . . the wonderful apartment near a bar full of kids that sang together till 3am in a language we didn't understand. (Nice for the first night . . . but how many nights in a row would that sound good?) The stroll on the promenade next to the big, bustling harbor filled with a mix of small fishing boats, large ferries, and humongous cruise ships. The huge rock walls, the glistening limestone and marble streets, the incredible seafood restaurant, the fish market, the little kids running around, the grandmas and grandpas.
That was one of the best parts of old town Split . . . because it's surrounded by a city that is active with as many locals as tourists (after the tourism horde ends in early Sept). There are families, old folks, partiers, lovers, strollers, loners, busybodies and goofballs.
Geni is leaning toward a two month return to Rovinj. I'm leaning toward a two month stay in Split.
---