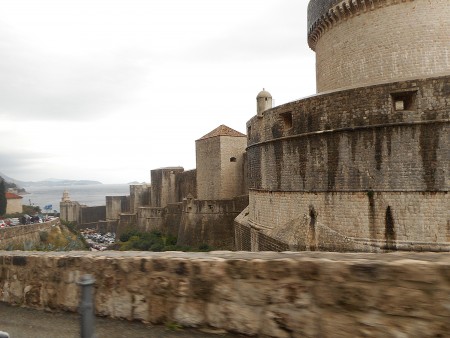 Massive and Formidable.
Massive and Elegant.
Massive and Impregnable.
Massive and Dainty.
Massive and Loved to Death.
Toss out your Disney, throw off your Hollywood, forget your storybooks. They simply can't carry the weight of Dubrovnik, and I'm not only referring to the walls that are 20 feet of solid stone and exquisite masonry 80 feet tall. I'm talking about the entire "thing" of it. The walls, the towers, the church every fifty feet, the tough, yet storybook, red-roofed homes and shops inside the walls, the marble-paved central street, the limestone-paved side streets. It's real, it's in your face, it's unrepentant and unforgiving. It's f-ing massive.
It's as if centuries of the same families have said: "We built this place to last. We're not going anywhere. Do your worst and we will remain. Join us for dinner, won't you?"
Someone in Split had told us that tourism would be bearable in Dubrovnik, finally, and that we would be able to find parking in one of the lots below the wall. So we drove past the sign to a public parking garage. Surely we could get closer than this. I had no idea how close we were, but I acted like the world was saving me front row parking. I soon knew that was a doomed prospect.
We joined a mile long line of cars winding down and down the hillside. We were surrounded by the tight stone houses—clean, well taken care of, fresh paint everywhere—as we inched our way along in our single file of cars, buses, and taxis. I was groaning inside. I hate long lines of cars. I know that there is some bozo up ahead who never learned to drive and who is so tense and nervous that he can't go more than an inch a minute. It was the scooters fault! They were zooming past the bozo in a steady stream and he was freaking out, afraid to turn his wheel or use his accelerator. He had become man-with-brake and we all moved so slow that pedestrians passed us.
So I grouched and whined like a spoiled American tourist. Didn't they know I was coming? Those spoiled Americans. Aren't they annoying?
There was no hint of what was coming.
First, the top of a massive stone tower loomed above a small home. It became more tower, then, suddenly, a wall two hundred yards long by 60 to 80 feet high dropped out from under us. We were almost even with the top of the wall and very close to driving on top of its facing wall. The two walls formed an 80 foot deep moat connected by bulwarks big enough to drive a truck across. I hit the brakes. Our mouths were open and we were saying "Oh my God, Oh my God!" I had become man-with-brake. I had dead-stopped because that's the safest thing to do when your mind can't cope with an unexpected impossibility.
Stone walls that were centuries old, and in excellent condition. Masonry work tight and smooth and so well-maintained that water wasn't able to get in and work the pieces apart. Battlements, flags, cannon slots, ramparts. It made me feel small and puny. It made me realize how their ancient enemies must have ached to own those walls.
To hell with Hollywood, they'd been lying to us all these years. They had no clue what a walled fortress town looked like.
We had entered another one of Croatia's famous alternate universes and there was no turning back. Foot off the brake and return to inching along. It took twenty more minutes to get down to the moat, which was not filled with water. It was filled with us. Our line of vehicles curled around and into that space between walls. Finally we were released into a wider area near one of the 3 main gates into Dubrovnik. That's where the tour buses loaded and unloaded and where the taxi drivers could no longer stand it and used their horns.
A five bus logjam finally broke and we slid free. But now we were heading back uphill, away from the walls. I thought it would be easy to follow the one-way loop back to that parking garage. Wrong. We were gifted with 1/2 hour of getting lost on the wrong one-way streets and following the wrong signs.
(Sidenote: common situation . . . sign with arrow tells you to turn right. You come to the intersection. There are three possible right turns, but no follow-up sign. Take the wrong right. Find your way back. Repeat.)
Found the parking garage and humped our backpacks and food bags for fifteen minutes down to the wall, passing the line of cars as we went.
Pause for an educational Wikipedia break.
The Walls of Dubrovnik have been considered to be amongst the great fortification systems of the Middle Ages, as they were never breached by a hostile army during this time period. In 1979, the old city of Dubrovnik, which includes a substantial portion of the old walls of Dubrovnik, joined the UNESCO list of World Heritage Sites.
The oldest systems of fortifications around the town were likely wooden palisades. Today's intact city walls, constructed mainly during the 12th–17th centuries, mostly a double line, have long been a source of pride for Dubrovnik. The walls run an uninterrupted course of approximately 1,940 metres (6,360 ft) in length, encircling most of the old city, and reach a maximum height of about 25 metres (82 ft). The bulk of the existing walls and fortifications were constructed during the 14th and 15th centuries, but were continually extended and strengthened up until the 17th century.
This complex structure, amongst the largest and most complete in Europe, protected the freedom and safety of a "civilised" and "sophisticated" republic that flourished in peace and prosperity for five centuries. The walls were reinforced by three circular and 14 quadrangular towers, five bastions (bulwarks), two angular fortifications and the large St. John's Fortress. Land Walls were additionally reinforced by one larger bastion and nine smaller semicircular ones, like the casemate Fort Bokar, the oldest preserved fort of that kind in Europe. The moat that ran around the outside section of the city walls which were armed by more than 120 cannons, made superb city defense.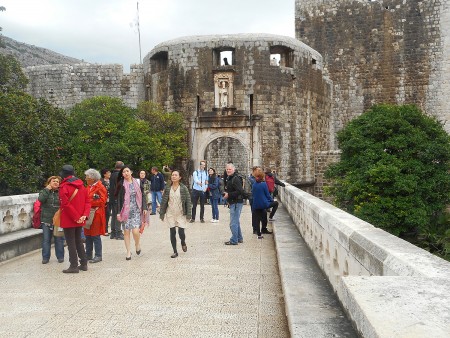 We made it past the last of the buses and taxis and into the Pile Gate. Bam! People. Hundreds of people in the entry square. People and people and people from all over the world. More cameras in the air than in the hands of tweens at a Taylor Swift show. More voices echoing off the stone walls than at a freefall at the New York stock exchange. And this was the beginning of slow season? At one point I counted 8 tour groups, average 30 per group, all looking at the same two historical buildings. I looked down the Stradun, the central street, and saw four more tour flags in the air coming to join them. And that was at one end of one street. Loved to death is an understatement.
More on that later.
We made our way up a narrow lane to our Airbnb apartment at the top of a three story home. Our bedroom skylight looked out over the roofs of the old town and, if we stood on the bed, we could see down to the awnings of the restaurant on our ground floor. We took showers and headed out to walk the lanes. It was similar in feel to Split, and a bit like Rovinj. But it was bigger, cleaner, and much better taken care of. It was tidy, tight, and the use of high-quality materials was clearly a town hallmark.
We learned to avoid the blocks nearest to the Stradun. Each lane was lined with restaurants and taverna on both sides, leaving just enough room for strollers to walk single file. There were menu podiums at each intersection, one for each restaurant. Similar to Split, with one exception. In Split, the waiters generally nodded and smiled and allowed you to view the menu in peace. In Dubrovnik they saw you coming and they tried to get you into a seat before you could slip past. If you made it to the podium, they helped you flip through the pages.
"Seafood? You like seafood?" Flip to the seafood pages. "German? "English?" They flipped to the English seafood page. Each menu had four or five pages for each of six languages. In spite of the fact that fully half the tourists were Asian, there were no Korean or Japanese or Chinese pages in the menu books. Apparently, that's what the pictures were for.
The shops on the busiest lanes were full of knicka-knacka tourist crap and full of tourists that like such things.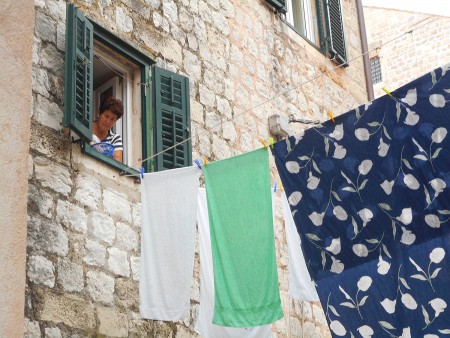 Geni and I strolled off the beaten path. We found taverna with peaceful staff and ancient surroundings. We found women hanging laundry and kids kicking balls. We nodded at old men sharing stone benches and telling the same stories that they'd been telling for centuries. We took "wrong" turns and ended up in three-building courtyards with fruit trees, veggie beds, benches, and bicycles. We had a chat with a woman who was leaning on her windowsill on the second floor and said that we'd been the first people to notice her there in many days. She liked to watch the tourists walk by and listen to their voices but not enough of them looked up and smiled at her.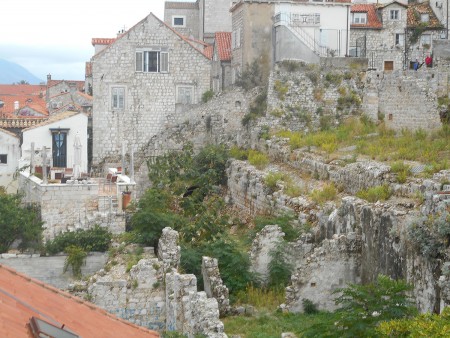 We came upon an area of ruins, probably ten to twelve buildings large, that looked ancient, but someone said was left over from the bombings by the Serbs in 1991. I wasn't able to confirm that, but there was another area similiar to that on the opposite end of the old town which came with the same explanation.
There were churches and chapels on almost every block. Many of them were locked tight and looked like they hadn't been used in decades. A few looked like they still held services, and several were for touring only. Two doors down from our apartment building was a church that had been converted to an art and performance space.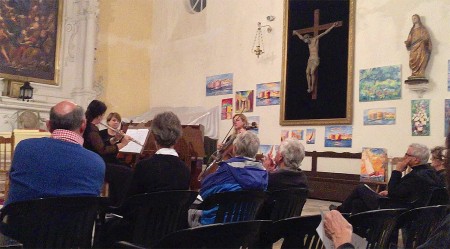 We shook off our umbrellas in a downpour and rushed inside to listen to a flute, violin, cello trio play classical music from several different centuries, including a long piece by a modern composer whose name we didn't recognize. The music was beautiful in that old church. We seemed to be the only Americans in an audience of about 12 northern Europeans. We kept clapping at the wrong places. The musicians knew exactly when to stand up and the Europeans knew exactly when to clap.
Within minutes the musicians were in love with Geni. Her delight was obvious to everyone in the room, and I'm sure annoying to a few of the Europeans. But such glances go completely unnoticed by the Queen of Enthusiasm, former cheerleader, teacher of dance and gymnastics to thousands of boys and girls. If she loves something, everybody in range of her oohs and ahhs knows about it. At the end of the show, before the musicians turned and exited through what had been the priest's door to sanctuary, they gave Geni a special nod and smile. The producer of the show, also ticket-taker chair-arranger poster-putter-upper, pulled Geni aside as we left to give her a hand clasp and thank you.
---