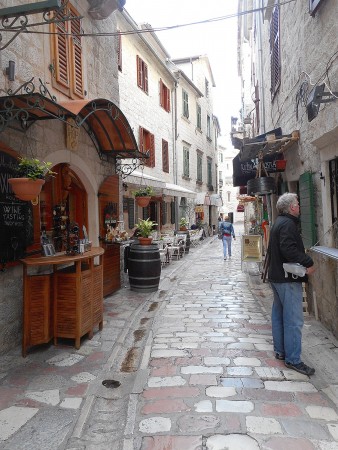 Kotor seems like a little sister of Dubrovnik and Rovinj. It's a medieval walled city with courtyards and old churches, statues, taverna, shops. There were winding lanes that opened to courtyards and gardens. The homes are well taken care of, though they seem mostly for tourist rentals and not for actual live-ins. It's beautiful, it's engaging, it has been loved to death by tourists to the point that it has very little of a "local" feel. We had spent most of our day driving to get there, and an unexpected amount of time at Our Lady of the Rocks, so our time in Kotor was too short.
It was beautiful, without being prissy. It was old, without being arrogant. It had a more relaxed feel than Dubrovnik. It was big enough for wandering, but not big enough for feeling like there was enough variety in neighborhoods. There was a fort a thousand feet up the side of a steep mountain, but we didn't have the energy for all those steps. The day was getting long and we had to return to Dubrovnik for our last night. We wanted to stay. We thought about adding a Kotor day back into the schedule . . . but we were ready to be out of the rain.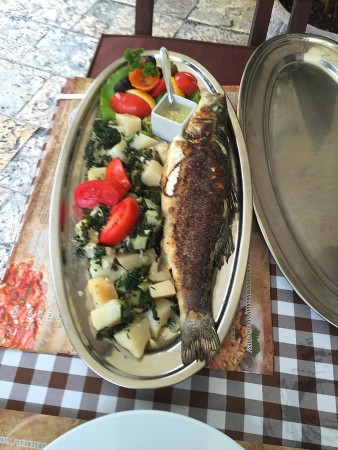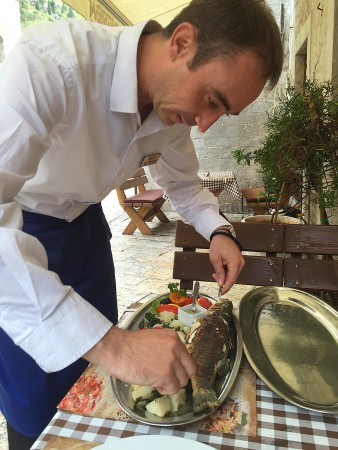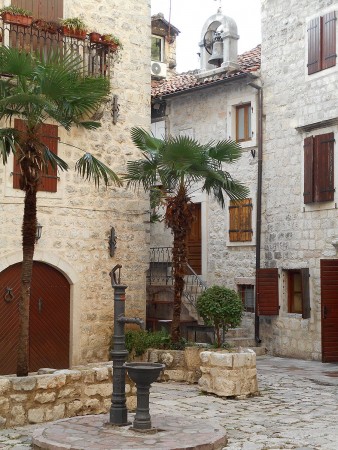 At lunch we were talking about the fact that Kotor seemed to have a lot of the flavor of Dubrovnik without the sheer oppressiveness of too many tourists. If we were going to spend a few months in one of these walled villages, Kotor stepped to the top three on our list.
Our waiter said he would be happy to find us the "perfect apartment." While expertly preparing our fish at the table, he said that he would be able to find us a shoulder-season apartment for 300 euro per month. Quite a bit more during high season, of course. I've got his email address, but he forgot to jot down his name and I didn't notice the error until it was too late.
The drive back was another moment of craziness. The first 8 kilometers were a one and a half lane road for two way traffic. There was no uphill shoulder because the homes came to the street. There was no downhill shoulder because that was the bay. Drivers had to squeeze past wherever the road thickened for one of the tiny rock-walled boat parking places, or where a house managed to make room for a driveway. We made it to the ferry that crossed the bay and got home to Dubrovnik without hitting a goat or getting another speeding ticket.
---