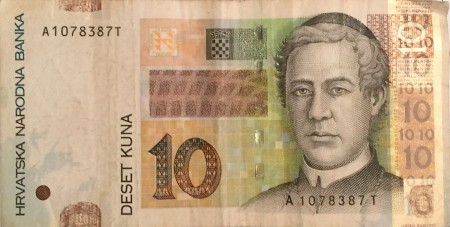 We're getting surprises every day on the prices of things. Sometimes very cheap, sometimes very expensive.
$6 per coffee at a place on the harbor and the waiter had tourist fatigue to the max. Not friendly.
$1.20 glass of wine, $1.50 glass of beer, also on the harbor, waitress with tourist fatigue, but friendly and liked the fact that we tried to order in Croatian.
More often than not, things are on the less expensive side. Here's where the weirdness creeps in. I see a 10 kuna bill in my hand, and my brain says "Wow. 10 dollar tip. You're a generous guy Charlie. Congratulations, self!"
Then I walk away, pull out my smarty-pants phone and bring up the currency calculator app. I just gave the waiter $1.40 tip on a $20 tab. Tightwad.
Another weird thing. They keep being surprised when I tip them. Like the buck forty is pretty cool. One of our Airbnb hosts told us 5% max tip, if we like somebody. He says the bill includes a tip for the server. What? That's not possible. How can a tip be built into a glass of wine that cost $1.20?
(The wine wasn't great, but it wasn't awful. You can taste the difference between the $1.20 and the $3.66 glasses of wine, but you won't spit out the cheap one.)
(The priest on the 10 kuna bill is Bishop Juraj Dobrila. During the Revolution of 1848, Dobrila became a member of the Slavjansko društvo ("Slavic society") in Trieste. He supported the introduction of the Slavic languages into schools and public life, funded children who wanted to attend schools in the Croatian part of the monarchy (in Rijeka and Kastav) and encouraged the peasants in Istria, mostly composed of Slavic people, to read books in their native language and avoid being abused by their mostly Italian lords.)
---