More on Beauty, Cruise Ships, Music Gone Missing
On the one hand, Imerovigli feels a bit empty. Most of the restaurants are closed (but not Bella Thera with great food for very reasonable prices) and all the hotels are closed. It appears that we only see other people on the balcony of a home/apartment/villa kind of place. On the other hand, there are enough people, and still cruise ships coming, to make Fira, the next town down, seem busy.
Fira is the main "city" and "capital" of Santorini. That's where the crazy, packed tourist shops are, along with lots of restaurants and clubs, and many hotels. A lot of them are still up and running.
It's the happening town, if you want to be happening. We timed it right because we could actually walk the lanes of Fira. There were a few times that we got bogged down by six friends that stopped to window shop and were completely oblivious to the fact that they had completely blocked the entire lane.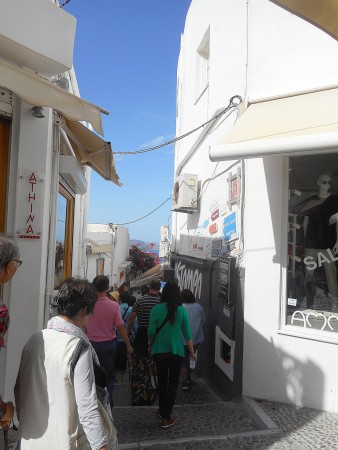 I could easily imagine how horrible it would be in the crush of summer and I was happy to not experience that. When six people can stop traffic dead by gathering to look at a pink plastic bracelet that says "Fira" you know what it must be like when five cruise ships are in port: not a place for the claustrophobic or quick-movers among us.
I wouldn't have lasted ten minutes. I would have seriously considered buying everybody ahead of me a plastic trinket just to get them out of the way. Then I would find the nearest bar stool, sip and watch the insanity, and wait for a gap big enough for me to break free to a different town entirely.
I'm not interested in junk jewelry or lame t-shirts, nor over-priced high quality jewelry or fine fashion. I rarely stop to look because I don't want to get cornered by a hungry salesperson. Geni doesn't seem to mind, so I do the occasional husband-standing-around bit while she browses and chats. She's very thoughtful though and doesn't put me in that position often.
When other salespeople approach me–the guy standing there who has money in his pockets–I smile, shake my head, roll my eyes and point at Geni. The look in my eyes, along with other key elements of body language, clearly say "no money coming from this direction." They nod and look for the next victim.
————
I mentioned the Beauty of Santorini in a previous post. It extends beyond the architecture, but in a slightly different way than I experienced in Split.
Split and Santorini are similar in the way that art seems to be a normal part of life, not something "special" like a lame 1% for the arts requirement for a public building in the U.S. Even in the two countries we've visited, in which art is part of a life well-lived, Split and Santorini stand out, but with subtle differences.
The major pieces of public art in Split were very intentional in size, orientation, and location, while the little pieces of art here and there were placed more loosely and with a free hand. They had something of a "art is part of my life but I don't even think of it that way, it's there because life is not life without it. If you notice it, then wonderful. If not, perhaps you'll enjoy my neighbor's door handle."
Santorini has fewer pieces of public art (they never had a Roman emperor show up and throw money around) and the art of the homes seems more "on purpose" than in Split. Things seem placed with the knowledge that strangers will be looking at it and that it needed to be "just so."
That was my impression. You'll have to go visit both places to see if you agree with me. Bear in mind that my idea of "Art" is expansive.
If you could have put a row of plastic stools in your bar but you bought some wacky shaped chunks of wood and put them on top of metal frames . . . if you could have gone to IKEA for a "designer" sink but you put a bowl turned from the trunk of an olive tree on a small stone pillar and placed it in the tiny WC in your taverna . . . if you hand-painted a sign on a piece of plywood you found laying around rather than set some Helvetica and Times Roman in an InDesign file and sent it off to FedEx Office for printing on plexiglass . . . then you leaned in the direction of Art. That's all it takes. Lean a little and life gets better because your head is tipped off the perfectly vertical.
————
Cruise ships: the perfect blend of plus and minus. Plus: boats are beautiful. Minus: ten stories tall with video screens I can watch from a mile away. Plus: each one represents an economic engine on many levels, employees, shareholders, staff of tiny shops and restaurants, etc. Minus: oh boy, how much pollution do they generate? Are they still dumping trash at sea? Plus: pretty at night. Minus: please god, why did you let them beat me to the taverna?
————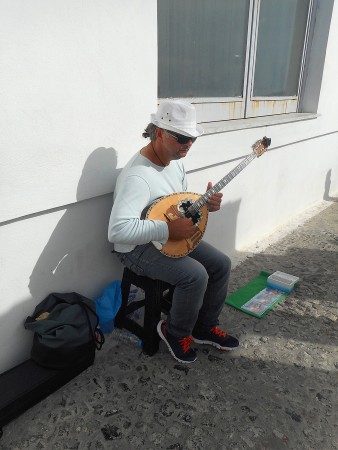 Okay. I'm getting seriously irritated. Where is all the music? What is so hard about hiring a few musicians to play acoustic music, or kick-ass rock n' roll, in the corner of your taverna for a few hours on a Friday night? Where are the gigs in the town square? What the hell is going on? Are you afraid your tourists will take their money elsewhere? They won't! There is only one Santorini on Planet Earth! Only one Rovinj! Only one Nafplio!
I've been swooning in post after post about livin' la dolce vita here in old Europe, like a New York Times art critic who discovered the next Pollock in a truck stop in Texas, but I can't get a simple 12 bar blues to go with my beer? Sheesh. I can pick among seven to ten places on any random night in Eugene to go for a few chords played by flesh and blood. I've heard plenty of good playlists here and there, but c'mon Greece! C'mon Croatia! Do I need to send some American promoters with loud voices to invade your countries? I think I need a Kickstarter campaign to get my friend Robert and JAR over here to liven things up.