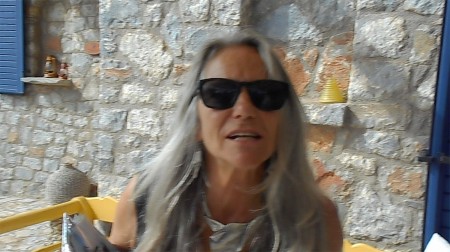 As everyone knows, when you travel there is often a bit of push and pull amongst the travelers regarding where to go and what to do. (I can't remember what I was in trouble for during this moment, but I had fun taking the picture.)
I assumed a day/night/day in Chania was on the list, even after the switch to the beach for a couple of nights. If you read my earlier post about Geni growing up listening to the ocean, then you know one side of the situation. Another side is that in that family house she could stand at any window and NOT see another house. So for most of her early years she grew up with elbow room.
It turns out she'd had enough of dense, medieval, narrow-laned old towns for a while and Chania no longer appealed. She wanted to go to the boonies of Crete, so off to the mountains we went, with a brief couple of hours in Chania on the way.
We were in Chania long enough to get the feeling that it would probably be one of our favorite towns to return to for a longer stay. It has a more relaxed feel, and family feel, when compared to the Croatian walled towns. But it's hard to be sure of something like that in a couple of hours of strolling and sitting for one beer/wine.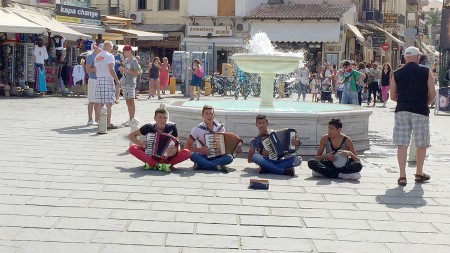 But what we saw had beauty around every corner and in every nook and cranny. Yes, it was a "capture and hold" the tourists sort of place, but nothing like Dubrovnik. There were many relaxed corners here and there that didn't have that urgent push we'd seen in so many other towns. There were kids playing and old folks strolling. They still seemed comfortable in their own town.
After cruising around Chania for a couple of hours, we headed south into the mountains to our next Airbnb place. It looked very nice on the website . . . for 60 euro per night, in the village of Lampini, near the village of Miores, near the town of Spili.
It was hard to find and twilight was coming fast, so we finally gave up and called the host on the phone. (I hate giving up. I enjoy the challenge of finding a destination in a strange place.) He came to find us on his scooter. He zoomed ahead, of course, and I had to gun it up the hill to keep up with him.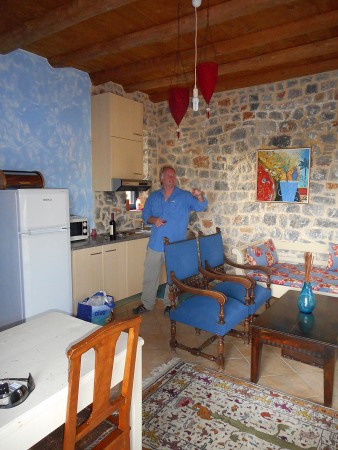 We went through little Lampini, up the hill and through a stone gate onto a stone parking area above the five villas and maisonette of Aoritis Villas (called Attitamos Villas on Airbnb.) We were in the maisonette.
Absolutely magnificent. Spectacular. Stunning. Less than ten years old, architect-designed, professional interior decoration, stone walls, stone floors, expensive tiling, designed for privacy, three swimming pools . . . and excellent breakfast delivered to our patio every morning.
We didn't expect it to be that nice, especially for 65 euro per night. For a luxury rental like that on the beach in Oregon, or at the base of a ski mountain in Colorado or Vermont, you'd expect to pay $200 per night, easy.
We were on a steep, south facing slope with mountains all around us ringing a deep valley. It was clear in the mornings and the four or five villages on the other mountainsides seemed like we could touch them if we stretched far enough. It was hazy in the afternoons and the same villages seemed ghost-like, floating in mists. The villages were separated by olive groves, farmland and trees.
We chose that location near Spili because it's within easy (ahem, nothing is easy on those roads. more on that later.) driving distance of Chania/Rethymno, southern beaches, ancient monasteries, and the Palace of Phaistos. We had no idea that Spili would be as sweet as it was.
Spili is big enough to be called a town. There are several small shops selling fresh fruit and veggies. There are a couple of bakeries, and a 1/2 size Safeway-ish place too. There are enough restaurants and taverna to make you feel like you could spend some time figuring out which were your favorites. There were quite a few shops selling quality-handcrafted goods–ceramic bowls and cups, baskets, crocheted and hand-woven tablecloths and aprons and shawls, herbs, and bottles of olives, olive oils, and vinegars wrapped and decorated with leaves from the trees they came from–made by the person selling them to you. And very few stores with imported crapola.
It's a mountain village lived in and cared for by the people that were born there, with a bit of an economic boost from tourism, rather than a place where the focus is on drawing you in to suck your pockets dry. In other words, the tourist part does not overwhelm or dominate the feeling of local and home.
Speaking of that, it's time for one of my famous digressions. Home. There had been something about Crete tickling the back of my mind since we arrived there. I couldn't place the feeling for many days, partly because of the ongoing rush of newness.
In Spili one day, while parking and walking to an ATM for cash for the journey to the Palace of Phaistos, we passed a small restaurant. It had about a dozen outdoor tables and six or seven indoors. It was early, about 10 am, and it was a school day. There were six old men sitting at two tables, probably talking about Pepi's stubborn goat that got away, or about needing a haircut, or about giving the house a new coat of whitewash. They had cups of coffee. They were smoking. They watched us walk by, expressionless. We nodded, Geni smiled. They got big smiles on their faces and nodded back. There was a table of three little girls nearby, doing schoolwork, but not in school. They didn't notice us for we were old and tourists too.
In that moment, I felt comfortable. I felt like we could find a place there and settle down and we would be welcomed as if we had been there all along. (Until conversation turned political of course, but that's the same everywhere.) The strange thing, though, was that it felt so old and so natural, that it seemed like it was a home we were coming back to, rather than one we had just found. The oldness isn't busted and broken-down. It's an oldness of broken-in and comfortable. That stone bench fits your ass perfectly because thousands of asses have smoothed it and shaped it and warmed it up for you over the centuries.
Go to Spili if you have time to sit for a while.
---
Map for Chania, Crete
---
Map for Spili, Crete